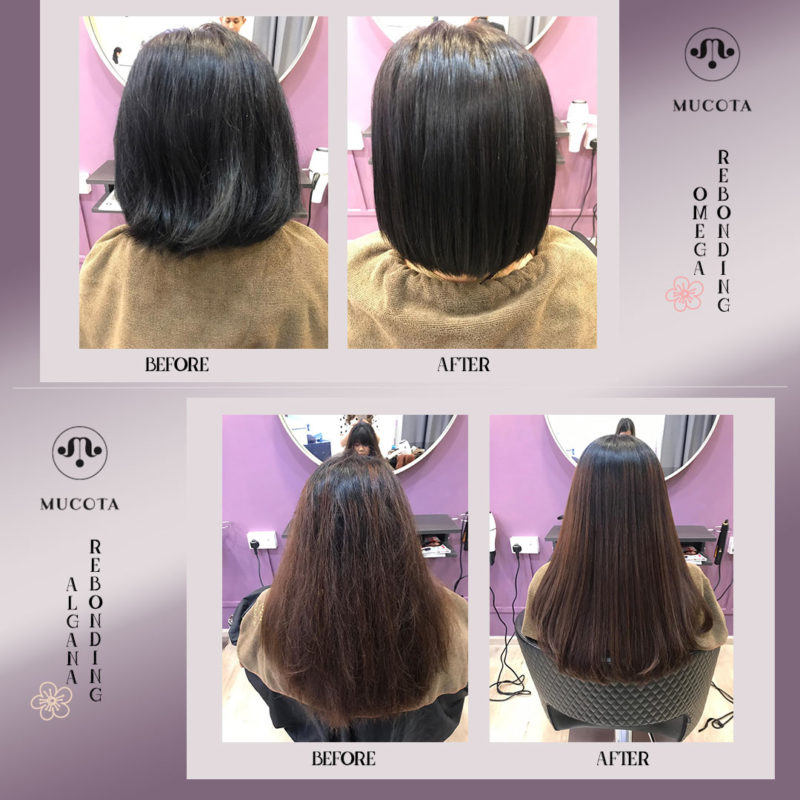 mucota omega rebonding
"The secret to the ultimate transformation of smooth hair using Japan's new technology"
Omega Therapy
Achieves luscious and smooth after-effect that could never be obtained with ordinary straightening processes. Omega Oil Therapy is a healing hair treatment that prevents iron or perm damage, provides moisture and leaves silky shine to hair. Specially formulated to help promote shine and softness.
Comprises of 7 essential oils to protect against heating elements
Castor Oil: Can withstand heat up to 313'C, it protects hair from losing moisture even during straightening or perming.
Jojoba Oil: Highly heat resistant and can withstand repeated heating. The oil protects the hair's surface and blocks away environmental damages such as UV rays.
Shea Butter: Contains anti-oxidants such as Vitamins A and E. Excellent moisturizer for brittle and dry hair.
Rose Hip Oil: High in omega 3 and 6 and provides Vitamin A. It gives ultimate shine to the hair without weighing it down, resulting in supple and soft hair.
Sweet Almond Oil: Adds lustre and makes hair look healthier. Improves hair quality with its moisturizing and strengthening effect.
Macadamia Oil: Easily absorbed in hair without leaving an oily residue. Contains both omega 3 and 6, provides high moisture retention.
Meadowfoam Oil: Potentially good for frizz control and intense moisturizing effects. Popular for its excellent oxidative stability and its superior anti-oxidant properties.
Hair Reconstruction for damaged or dry hair. Able to rescue frizzy and unmanageable hair.
Results: Lustrous, shiny and moisturized hair.
Short: $170.00
Shoulder Length: $200.00
Long: $230.00
mucota algana rebonding
Algana+ is one of Mucota's top-of-the-line premium products, a revolutionary hair conditioning treatment that repairs and enhances hair integrity while incorporating the art of hair design. This reparative conditioning treatment utilises modern Japanese hair innovation and ancient philosophy to work on hair condition from within.
algana+ - argan oil treatment concept
A Cysteine-based system (amino acid) and cysteine exists in our hair to give strength and durability. A next-generation reparative conditioning hair treatment and does not contain cancer-causing formaldehyde.
benefits of argan oil:
Prevents dryness and prolongs color vitality and vibrancy
Rich in Vitamin E, heals, protects and restores hair vitality
Rich in omega 3 and 6, oleic and linoleic acid that hydrates and provides nutrition to hair
Non-greasy
Shields and protects hair from harmful UV radiation and environmental stress
Soothes out frizz, enhances elasticity and strength of hair
key benefits of algana treatment:
Hair feels softer, smoother with a healthy shine
More natural looking hair
No harsh chemicals
100% safe
Less damaging than other salon treatments
Tames frizzy hair
Lasts up to 6 months or longer*
Short: $220.00
Shoulder Length: $250.00
Long: $280.00