Mucota
Mucota
Algana vs Omega
Customers are always wondering what are the differences between Mucota Algana and Omega? In this post, we would like to take the pleasure in listing down the differences for our customers' knowledge and understanding.
Algana
Algana is an argan oil treatment concept. Argan oil derives from argan tree nut, and it is believed to originate from a village in South-West of Morocco. Moroccan women have been using argan oil as skin moisturisers and hair conditioners to protect themselves from the scorching sunshine since ancient times. Argan oil is the most expensive plant oil on earth, and extraction can only be done by hand. Packed with rich antioxidant, rejuvenating Vitamin E, omega-3 and omega-9, we are all aware that argan oil has many uses, especially in hair care. Besides offering thermal protection against the harmful UV rays, this precious oil combats dry, rough, frizzy and dull hair.
Benefits of Argan Oil
Prevents dryness and prolongs color vitality and vibrancy
Rich in vitamin E, heals, protects and restores hair vitality
Rich in Fatty (Omega 3 & 6), oleic and linoleic acid that hydrates and provides nutrition to hair
Non-greasy
Shields and protects hair from harmful UV radiation and environmental stress
Soothes out frizz, enhances elasticity and strength of hair
Why Algana is chosen over other salon treatments (rebonding or perm)?
Algana is a cysteine-based treatment (amino acid) and cysteine exists in our hair to give it strength and durability. Cysteine-based system is a modern form of hair treatment. This treatment uses naturally occurring essential amino acid to strengthen hair. In addition, Algana applies the flawless control of pH of our hair through perfectly balanced dilation and reduction to achieve both design and results. The amino acid-based dilation agent gently lifts the hair cuticles just to the right levels to allow product penetration into the cortex. Once desired effects have been achieved, a reducing agent "closes" the cuticles back to the original state. In comparison with other commercial hair treatments, they may contain a high level of alkaline content that forces hair cuticles to swell excessively, causing damaged to the hair.
Key benefits of Algana
Hair feels softer, smoother with a healthy shine
More natural looking hair
No harsh chemicals
100% safe
Less damaging with heat
Tames frizzy hair
Lasts up to 6 months or longer*
100% formaldehyde free
Algana Triple Action Treatment
In conclusion, Algana is formulated with the right PH balance for perfectly balanced and healthy hair. The liquid emulsifying cream deeply penetrates into hair delivering moisture and oils resulting in soft, smooth and silky hair
Omega
Omega Therapy can achieve luscious and smooth after-effect that could never be obtained with ordinary straightening process. It uses 7 different essentials oils to protect against heating elements, in addition to its Moisture Retention Technology.
7 types of Essential Oil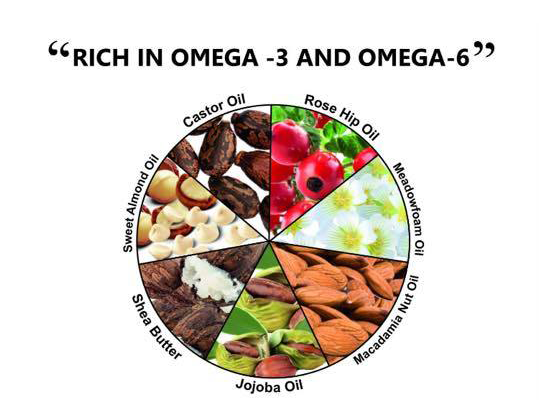 Castor Oil

Castor oil can withstand heat up to 313 degree Celsius, which means it protects hair from losing moisture even during straightening or perming

Jojoba Oil

Jojoba is highly heat resistant and can withstand repeated heating. The oil protects the hair's surface and blocks away environmental damages such as UV rays

Shea Butter

Shea butter contains anti-oxidants such as Vitamins A and E. It is also an excellent moisturizer for brittle and dry hair

Rose Hip Oil

Rose hip oil is high in Omega 3 and 6, and provides Vitamin A. Additionally it gives ultimate shine to the hair without weighing it down, resulting in supple and soft hair.

Sweet Almond Oil

Almond Oil adds lustre and makes hair look healthier. It improves hair quality with its moisturizing and strengthening effect.

Macadamia Oil

Macadamia Oil is easily absorbed in hair without having an oily residue. It contains both Omega 3 and 6, providing high moisture retention.

Meadowfoam Oil

Meadowfoam Oil is potentially good for frizz control and intense moisturizing effects. It is popular for its excellent oxidative stability and its superior anti-oxidant properties.
Omega Oil Therapy is a healing hair treatment that prevents iron or perm damage, provides moisture and leaves silky shine to hair. It is specially formulated to help promote shine and softness.
Algana or Omega, we all love how Mucota products bring magic to our hair. Their expertise and scientific know-how have been engaged in all their brilliant treatments. Perhaps, it is time to term Mucota rebonding or perm as "treatments", as the end-results show nothing like your ordinary straightening or frizzy and damaged perm. Most importantly, their lasting results are worth the time and money you are going to invest in.