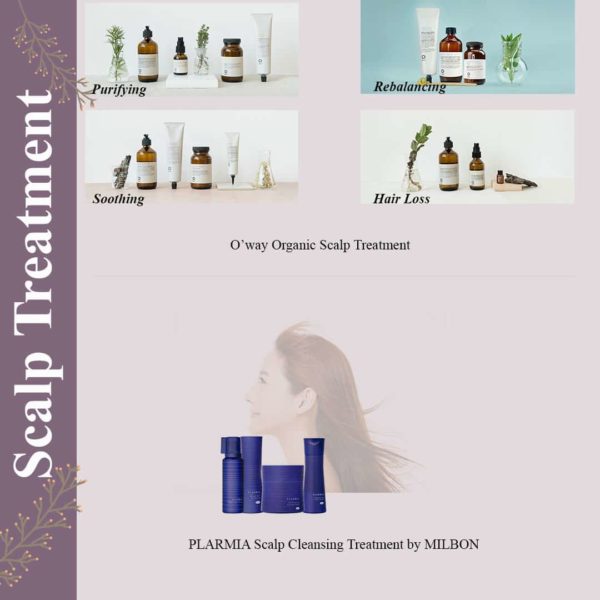 O'way Organic Scalp Treatment – $148.00
4 customized treatments:
Purifying
For scalp with dry dandruff, flaking and itching
For scalp with greasy dandruff and itching
Rebalancing
For skin with more or less defined yellow spots and shiny skin
For yellow spots on skin with oily strands
For oil with clumps of dandruff
Soothing
For skin with red patches
For skin with red patches with lesions and abrasions
For widespread redness
For dermatitis seborrheica: dryness and/or redness and bleeding
Hair Loss
For simple hair loss
For hair loss caused by cutaneous trophism
For hair loss with presence of dermatitis and/or sensitisation
For hair loss caused by excess sebum
For hair loss caused by dandruff
PLARMIA SCALP cleansing treatment by milbon – $108.00
Turn back time and age proof your scalp. The scalp ages faster than your body and face. Lack of care causes scalp to loose elasticity, moisture and leads to aging hair or hair loss.
This 5-step anti-aging scalp treatment uses nutrient-rich botanical ingredients such as:
Soybean – good source of protein, Vitamin B, fatty acids, helps to retain moisture
Seaweed – contains essential fatty acids and omega-3 & 6, rich in antioxidants, helps to detoxify hair
Royal Jelly – high mineral and protein content, enhances and promotes healthy hair growth
Kaolin Clay – reduces skin irritation, absorbs toxins, excess dirt and oil, nourishes scalp & promotes hair growth
In addition, Persimmon Tannin found in the micro-carbonated shampoo removes and washes up odors easily and also aids in scalp odor suppression issue. This world's first micro-carbonated shampoo soothes and relaxes the scalp, and promotes blood circulation together with a head massage.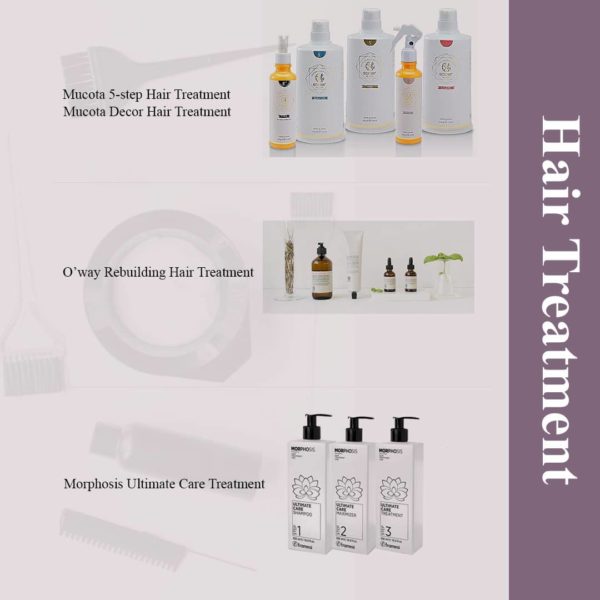 mucota 5-step hair treatment
An exquisite treatment formulated for Asian hair types, it restores hair internally by effectively penetrating through hair layers.
Short – $98.00
Shoulder length – $128.00
Long – $158.00
mucota decor hair treatment
An intensive express in-salon treatment for chemically treated hair. It softens dry, rough hair from heat and alkali, giving it a supple and lustrous finish.
Short – $48.00
Shoulder length – $78.00
Long – $108.00
o'way rebuilding hair treatment 
A system that offers 8 benefits: shine, elasticity, hydration, remineralisation, body and structure, cuticle repair, strength and energy and resistance to breakage.
Short – $158.00
Shoulder length – $168.00
Long – $178.00
morphosis ultimate care treatment- $38.00
A 3-step instant luxurious hair treatment. Formulated for customers that are time-concern.
Step 1: shampoo
Intensive revitalising shampoo that hydrates in depth while delicate on the scalp. Formulated with Total-Care Complex*, lotus flower extract and Color-Save technology.
step 2: maximizer
Instant perfecting serum for hair and revitalizes hair fibres in depth. Also formulated with Total-Care Complex*, lotus flower extract and plant micro-proteins.
step 3: treatment
Treatment for total hair regeneration that recreates the fibre's natural hyration and hair is transformed instantly.
*Total-Care Complex
3 amino acids, hyaluronic acid, olive oil by-product, ascorbyl tetraisopalmitate (antioxidant for the scalp, repairs & shines lengths)
Lotus flower water
Takes part in scalp wellness, provides hydration and is soothing and anti-oxidant.
Color-Save technology
Helps prolong color radiance and protects the keratin structure of hair
plant micro-proteins
Penetrates hair fibre in depth, regenerates the shaft